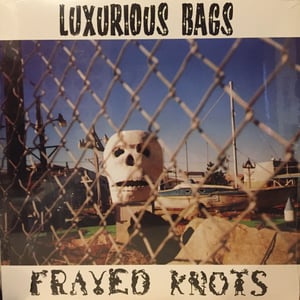 $

15.00
1990, Storrs, CT. Twisted Village heads Wayne and Kate are DJ's at the local college station with Tom Leonard, guitarist in a local up-and-coming outfit called St Johnny. One day Tom slips Kate a cassette curiously titled "Luxurious Bags Of Vomit," containing the first recordings of his basement one-man band. The tape turned out to be a glorious noise & scuzzrock racket falling somewhere between Chrome and early Pussy Galore. The TV heads flipped over it, and immediately offered to put out an LP. Tom thinks they are joking. Eventually he is convinced they are serious, and that cassette forms the basis of the 1991 debut LP from Luxurious Bags, "From Heaven To My Head." This was followed by 1992's "Voluntary Lifelong Quarantine" as well as a CD combining both LP's. All sold briskly, as Tom's one-man act gained momentum.
Also gaining momentum was his other outlet St Johnny. After a couple of singles and a UK album on Rough Trade, they were signed by Thurston Moore to DGC in the post-Nirvana rush. Tom stayed for the recording of their 1994 DGC debut "Speed Is Dreaming," but soon found the band's new life as a major label act not to his liking. Tom was gone by the time the album hit the racks, and retreated to the basement to work full time on Luxurious Bags' magnum opus.
Recordings already started on 4-track cassette were transferred to 8-track reel to reel, and reworked endlessly. In early 1995, Tom declared the record finished, and delivered "Frayed Knots" as the third (and, as it turned out, final) album. While retaining much of the lo-fi noisiness of his earlier work, "Frayed Knots" had a wider range of influences shining through. Much of "Frayed Knots" had a strong melodic basis, showing echoes of Dinosaur Jr and My Bloody Valentine, while the final 10+ minute cut dissolves into Terry Riley-esque soundscapes. So satisfied was Tom with "Frayed Knots" that he called time on Luxurious Bags upon the album's release in 1995, becoming perhaps the only one-man band to ever break up with itself. He then joined Major Stars, where he remains to this day.
"Frayed Knots" earned glowing reviews in the 'zines of the day, and legions of fans have long waited in vain for a followup. Many have also waited for a vinyl issue of the album (this being the mid-90's, "Frayed Knots" had come out only on CD). We are happy to finally announce the first vinyl version of "Frayed Knots," a mere 23 years after its first release. Housed in a full-size version of the original artwork is a glorious black vinyl slab, from which these timeless melodies will ooze out of your speakers with more mystery than ever. Right freaking on.